The End Times: Adobe Business Catalyst
Adobe Business Catalyst migration services
All Adobe Business Catalyst servers will be taken down on March 26th, 2021!
Escape the apocalypse and keep your website up and running!
We can help with your Business Catalyst migration!
The digital marketing and web design team at Archmore Business Web, provides a plan of action for Adobe Business Catalyst customers to help them prepare a CMS migration plan to a new platform. We also provide a FAQ list that documents official statements made by the Adobe team. This information has been available on the Adobe forums, but have been transcribed here for your convenience.
Get Help Now!
Call: (614) 568-7500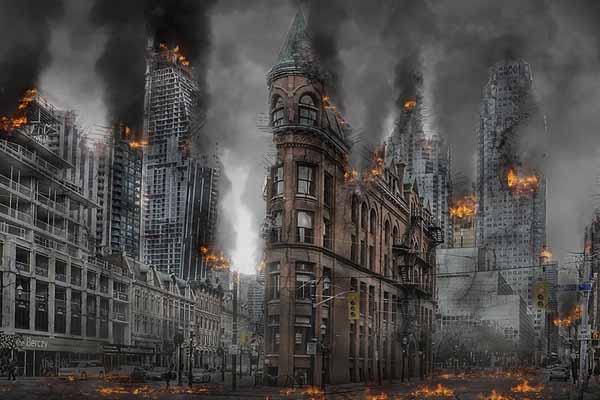 The end is nigh! Yes, this is an exaggeration, but if you have an Adobe Catalyst website, then we would suggest moving it over to GoDaddy and changing your content management system to WordPress! Contact us now and we can help you move your website to a new and better host!
What Should You Do?
This is the burning question (pun intended), but what should you do now that Adobe Catalyst is headed for the end of life? Thankfully, we have a solution for you. Our team of web and technology professionals can help you through the process and get your website migrated safely to a different host, so you will not lose your site. Fret not though, we can help you avoid the Business Catalyst end times and make sure your website is still up and running!
Assess the Situation
We will help you assess your website and make recommendations to ensure that you do not lose any data on your website. The ultimate goal is to get your website migrated to a different host and CMS system. Our immediate recommendations are: WordPress for CMS and GoDaddy for hosting.
Planning
Once you have spoken to one of our team members, we will then map out a plan of action to let you know exactly how we will migrate your data away from Adobe Business Catalyst. We will work with you and walk you through every step of the process, so it will be painless. We do the tech, stuff, you just need to provide us with the details.
The Migration Process
Moving your website may take some time. It depends on how big your website is and how much data you have. Rest assured that we will make sure that this part is completed in the most efficient way possible. We will provide updates as needed.
Content Management System (CMS)
We will make sure that your website looks as close to the original design as possible. Our web development and design team will make sure to replicate the original site in all its glory. Your new CMS system will be Wordpress and it will allow you to be able to make easy changes to your content. We even offer WordPress training, if needed. Our SEO experts will make sure that your website does not lose any search engine rankings.
User Acceptance Testing
We make sure that your website is functional and there are no broken links. When we test your website, we make sure that it is up to the standards of your old website. Your website will be mobile and desktop friendly and will comply with all existing website standards.
Backing Up Your Website
We will make sure that your website is backed up and that your data can be restored at any time. This ensures an added layer of security and peace of mind. We can also provide ongoing backups on a monthly, weekly or daily basis depending on how frequently you change or update your content.
New Hosting Plan
Once we have migrated your website data, we will put your website onto a new hosting plan. We personally recommend GoDaddy as the best alternative to Business Catalyst. We will need your DNS information in order to do this. Your website will not have any down time and it will be up and running, so you can rest assure that you will not lose any website traffic.
Ongoing Support
We have a maintenance plan that covers security, backups and CMS updates. This includes website maintenance and a report that is generated each month. Contact us now and learn more.
Adobe Business Catalyst - End Times FAQ
All of this information was compiled on the official Adobe forums and have been verified by their employees. If you need assistance migrating your website to a new host and CMS platform, then contact us now for a quote! We are always happy to help!
Adobe Business Catalyst End of Life FAQs
1
Why is Adobe discontinuing Business Catalyst?
The official statement from the Adobe company states: "Adobe is committed to delivering exceptional software and services to our customers. It's in our nature to innovate and try new things, and it was in this spirit that we acquired Business Catalyst in 2009. As we re-focus on products that broadly provide our customers with the most value, we are now announcing the end of life for Business Catalyst. We thank our Business Catalyst users and want to help them make a smooth transition to a third party service."
2
When will Adobe Catalyst End of Life take effect?
March 26th, 2021.
3
Will this affect paid Adobe Business Catalyst sites?
Yes, all sites, including trial and paid sites, partner sites, etc. will be affected by the end of life.
4
Will Adobe Business Catalyst data be available for download after the end date?
No. Data will be deleted. We encourage users to download their data before the service end date.
5
How much time will Adobe Business Catalyst allow you to export data?
All Adobe Business Catalyst servers will be taken down on March 26th, 2021, after which all customer data will be deleted. Please export your data before March 26th, 2021.
6
How long will Adobe Business Catalyst keep your data? What will they do with it?
The team at Adobe Business Catalyst says they will retain all website data until March 26th, 2021 or until you delete your site, whichever is sooner, so that you can transition to another product.
7
What are other Adobe Business Catalyst alternative products?
We recommend GoDaddy and a transition to a WordPress website.
8
Will new Adobe Business Catalyst features be developed?
No, new features will no longer be developed on Adobe Business Catalyst. We are maintaining a small team to correct critical issues, but no new work is being done. The Adobe Business Catalyst team will maintain the PCI and GDPR compliance throughout the lifetime of the product and develop any new features needed in this respect.
9
Will Adobe still fix the bugs in Business Catalyst?
The Adobe Business Catalyst team says they will continue to repair critical issues (related to security, payments or customer data for example) when they appear, however, the work will be limited to bugs that have a high security or high stability risk. They will not be fixing minor items with small impact or that have a workaround which can be used.
10
Will Your Adobe Business Catalyst site be closed down?
At this time, the Adobe Business Catalyst team states that all sites will continue to be live and the public will see no difference in your site. However, starting with March 26th, 2021 all sites will no longer be live and they will not be accessible either to the general public, or to the site administrators. They recommend that you find an alternative platform for your site and data before this date. (We recommend GoDaddy).
11
Can I continue creating Adobe Business Catalyst trial sites?
No. Adobe Business Catalyst announced that they will stop allowing the creation of trial sites on June 18th, 2018. If you had upgraded to a paid site, then the data from these sites, as well as from any other site in your portfolio, needs to be removed from the platform before March 26th, 2021.
12
Can I upgrade my trial Adobe Business Catalyst site to paid?
No. The team at Adobe Business Catalyst indicated that they will end trial sites on June 18th, 2018.
13
Can I downgrade my Adobe Business Catalyst site or make any other plan changes?
Yes, according to Adobe Business Catalyst's official forum, you can continue making any changes to your site plan and extras until March 26th, 2021.
14
Can I still purchase extras?
According to the Adobe Business Catalyst's official forum, you can continue purchasing extras until March 26th, 2021. Please note that all extras expire on March 26th, 2021 and can no longer be used after that date.
15
Can I continue sending newsletters?
Adobe Business Catalyst indicates that the e-mail marketing features will continue to work for the duration of your site. You can continue sending emails until March 26th, 2021 at which point all newsletter credits remaining in your account will expire.
16
Can I still redeem my commissions?
From the information gathered on the Adobe Business Catalyst forum, you can continue to redeem the commissions available in your account until March 26th, 2021. Following this date this feature will not be available anymore.
17
What happens to the commissions below $500?
At this time, Adobe is researching technical options to allow redemption of lower commissions. Please stay tuned for further announcements from the Business Catalyst team.
18
Can I extend the validity of my extras beyond March 26th, 2021?
No, the validity date for your extras can no longer be extended. All extras not used until March 26th, 2021 will be forfeited.
19
Will I be able to use Adobe Muse or Dreamweaver to update my site?
Yes, until March 26th, 2021, if your desktop app still functions properly.
20
Will I still have technical support for Adobe Business Catalyst?
Yes, the Adobe Business Catalyst team mentions on their official web forum that users have until March 26th, 2021. However, after June 18th, 2018, their support team stated that they will give a higher priority to cases about the off the platform migration questions, in addition to critical security, compliance, and availability issues.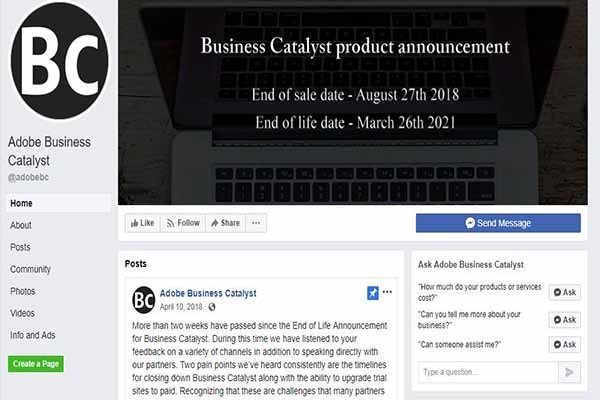 Let's Get Started!
Escape the Business Catalyst apocalypse! Don't wait until the end! Get started today with your Business Catalyst end of life migration, now!