Should I Sell on Amazon or My Own Website?
By Daclaud Lee, Project Manager and SEO Consultant
Dear Archmore,

I am interested in getting into eCommerce and I would like to know whether I should sell my products on Amazon or to sell them on my own website? Which is better and what do you suggest?
Sincerely,
"I'm new to eCommerce"
Answer: You're new to eCommerce? Well, the short Answer is you can (and probably should) do both. The long answer concerning what is "better" is entirely situational and based on your own preferences. If you just want to have a casual side hustle with no actual interest in building up your own brand or business, then go with Amazon by itself. Many people have found success by buying products that are on clearance or looking for wholesale products to flip on Amazon. However, if you are serious about starting your own eCommerce company, establishing a brand identity and having your own online presence, then go with your own website. You can always use Amazon to supplent the sales on your website until your web presence has been properly established to the point where you no longer need Amazon.
Who Can Sell on Amazon?
Virtually anyone can list and sell on Amazon. Third party sellers have been selling on Amazon since 1999 and have been a huge contribution to the company's success. Whether you want to become an Amazon seller as a part time side hustle for supplemental income or you have a genuine a desire to make it your full time career, then your goal is obtainable with the right strategy. Keep in mind that even though just about anyone can sell things on Amazon, not all sellers will be approved. In order to meet the bare minimum qualifications, you will need to submit the following documents in your application:
Business email address or Amazon customer account
Chargeable credit card
Government ID (identity verification protects sellers and customers)
Tax information
Phone number
A bank account where Amazon can send you proceeds from your sales
Who can Build Their Own eCommerce Website?
If you are a little tech savvy, then you can build an eCommerce site. There is very little barrier to entry and there are many eCommerce platforms out there to get you started. The fist thing you need to do is purchase a domain name and web hosting. Next you will have to integrate a shopping cart and apply for a payment processor, and you can have an eCommerce website; just like that!
On a basic level, there's really nothing to it. As long as you have some technical skill, you can easily create an eCommerce website. However, as a business owner, your time is too valuable and you should really focus on your attention on managing your business instead. That's why you should hire an expert to do your web design. Archmore Business Web is an award winning eCommerce website design company that can help you achieve your goals!
Getting Started with my eCommerce Website
There are many hosted and DIY shopping cart platforms out there such as Shopify, Squarespace, Prestashop, OpenCart, Magento, WooCommerce and many others that make it a relatively easy process to get started. Keep in mind that some shopping carts have a higher learning curve than others, so make sure you pick on that is suited to your skill level as a web developer. If you are not a web developer, then you should go with a hosted shopping cart, where the programming is already done for you and all you have to do is upload products. However, the real challenge is when it comes building your online presence and successfully marketing and promoting your products will take time. With the right digital marketing strategy, you can be successful as an eCommerce entrepreneur.
The Pros and Cons of Selling on Amazon
Amazon is a great platform to get started with eCommerce. The most obvious reason is the fact that Amazon already has a name. By now, you have to be living under a rock not to know who Jeff Bezos is (for those of you who are living under a rock, he's the guy who just flew to outer space on his own rocket ship). Amazon has been around since 1994 and has become a household name. It is almost everyone's go to website for eCommerce purchases and Jeff Bezos became the richest man in the world in 2018, surpassing Bill Gates, Warren Buffer and Mark Zuckerberg. Needless to say, Amazon is the colossus of eCommerce websites. This doesn't mean your website can't be the next Amazon (then again, maybe you don't want to be the next Amazon and just want to focus on your own niche). Regardless of what your eCommerce goals are, there will be a lot of work involved and if you area really serious about making a business out of it, then you really should have your own website, but you can also consider using Amazon as a tool for supplemental sales. However, there are still many pros and cons of an having Amazon store.
The Pros of Selling on Amazon
People who sell on Amazon will often get immediate satisfaction as they see their products getting purchased almost instantly (often times on day one if you have a popular product). You don't have to do much marketing, because Amazon is its own marketing platform. As long as you have a product that is in demand, it's competetively priced and you have your product placed in the correct category, then you should get sales. Amazon is great for sellers who just want to casually flip a few items, without having to worry about extensive marketing and SEO.
You don't have to be an actual business
As an Amazon seller, you do not have to have an EIN or an actual business set up. You also don't pay taxes until you make a over certain amount in gross sales. All you need to do is give them your social security number and they will give you a 1099-K. Since I am not an accountant, I can't really provide any additional input on this, so be sure to do your own research.
Less overhead costs
Amazon has its own fulfillment center, so you don't have to rent out expensive warehouse space. Amazon also pays employees to work at these fulfillment centers, which means you can save on employee costs for shipping and handling. Amazon also acts as your first line customer service team, so you can focus on selling. This service is called Fulfillment by Amazon (FBA). Amazon's fulfillment service can help you manage customer orders, send shipments on time, and obtain dated information on products available for restocking or promotions. Amazon is also such a titan, that they allow your customers to get free shipping if they have Amazon Prime or if their total order amount is over a certain dollar amount. Needless to say, this is hard to beat.
Good for the Short Game
Some sellers may be in it for the long run, but the reality is, Amazon could shut your store down at any time if you fail to play by their rules. Sometimes breaking a rule can be entirely accidental; don't expect them to help you much if it happens (you can still get help, but it won't be that great).
Since Amazon is the biggest eCommerce store in the world. This means you have the ability to list, sell and market your products to a huge audience right from the get go. This means you don't really have to invest in marketing, since Amazon pretty much takes care of this for you. As long as your product is assigned a category, then people will find it. You can also increase your presence on Amazon with the featured offer eligibility which will make you visible near the top of a product detail page, which allows customers to buy now or add to their shopping carts. Therefore, Amazon is a great platform for anyone looking for supplemental income (at least starting out). Sure you hear many success stories of people making millions selling products on Amazon, but you have to be realistic with your goals and expectations.
Amazon Does SEO for You
You don't have to be an SEO expert to get your product ranked on Amazon and Google search. Amazon already handles all of that for you. All you need to do is have some kind of awareness of what your product is, provide the right technical descriptions and have decent copy and you should get ranked for whatever keyword(s) you have in the title. Make sure you have a proper description and title that people would be searching for and Amazon will take care of the rest. Example: Bell and Howell Spotlight should use the keywords "spotlight", "solar light", "motion detection" and "security" in the description. You also need to place it in the right category such as "Home and Garden", "Security", "Landscape and Lighting", "Flood Lights" "Solar Lights" and "Wall Light Fixtures". The only way you would not get ranked on Amazon is if you totally messed up your categories and descriptions.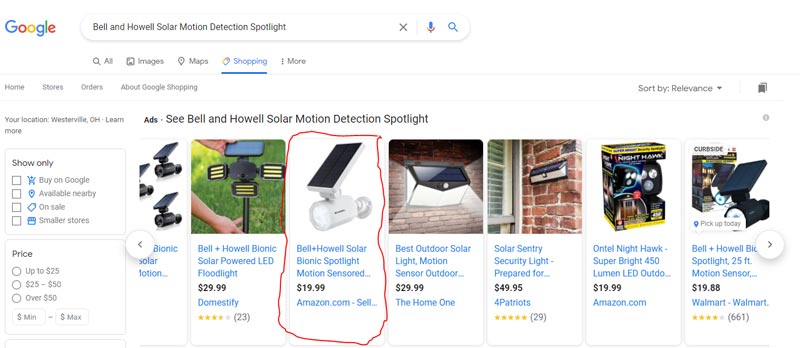 Above: A Bell and Howell motion light ranks in Google's search engines because Amazon makes it happen.
Affiliate Marketing Support
Amazon Affiliates allows influencers, YouTubers, webmasters and bloggers to help push your product too. The Amazon Affiliates program actually pays other people to promote your product. They get a commission for every product that they sell. Webmasters are provided with an Amazon affiliate link which they can add on their website as a text link or a banner link. Some Amazon affiliate marketers can also post links onto social media in order to get sales.
Free Customer Service Support Team
Amazon is essentially your first line in customer service. When you sell on Amazon, the communication with the customer is mostly handled by Amazon. I suppose this could be a pro as well as much as it is a con, but it allows sellers to focus less on customer service and more on uploading products.
The Cons of Selling on Amazon
Selling on Amazon does not come without a price. Since Amazon is a privately owned platform, you have to pay to play. whether or not the costs are worth it is entirely up to you.
Amazon Commissions
Amazon gets a commission of your sales. You can sign up for the individual plan or the professional plan. The individual plan deducts a percentage of each sale you make, while the professional plan is a flat rate. Honestly, the fees are not terribly high and they would only effect your sales negatively if you have a low profit margin. The higher your profit margin, the less Amazon commissions will effect you.
Your Storefront Belongs to Amazon
If you sell on Amazon, then Amazon wants exclusivity. Amazon does not allow you to link back to your website from their store. The best they will do is allow you to display your business name, address and logo. So if you have a good logo and a catchy name, then chances are a customer using Amazon might spot this and use Google to find your website (this is rare since most people just purchase the product without caring who the actually seller is, but the situation I described could hypothetically happen). According to Amazon's rules, if you post an item for sale on Amazon, then technically the listing belongs to them, which is why you are not allowed to link to your own website (Amazon wants the customer to think that the item is coming from them and not a third party website.  All of this is described in Amazon's Seller Central.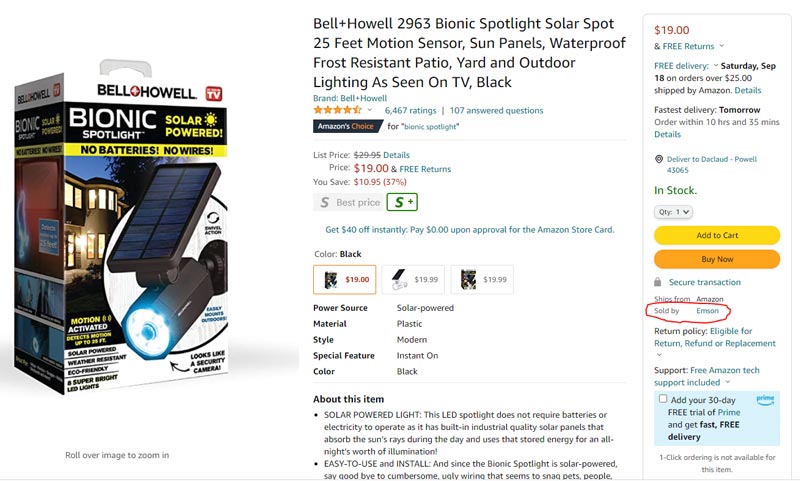 Above: This product looks like it's being sold by Amazon, but the seller is actually a company called Emerson. By the way, the link goes to your seller page (on Amazon's website), so you can't link back to your own website, because your Amazon store does not really belong to you, it belongs to Amazon (you are just "renting space" on their website).
Direct Competition
Price Wars and oversaturation of products. If you are selling the same product as someone else, then it essentially becomes a price war on Amazon. It usually ends up a battle between who has the lowest price for the same item. However, if you are selling a niche product that no one else has, then you should be fine since your competition is not as direct.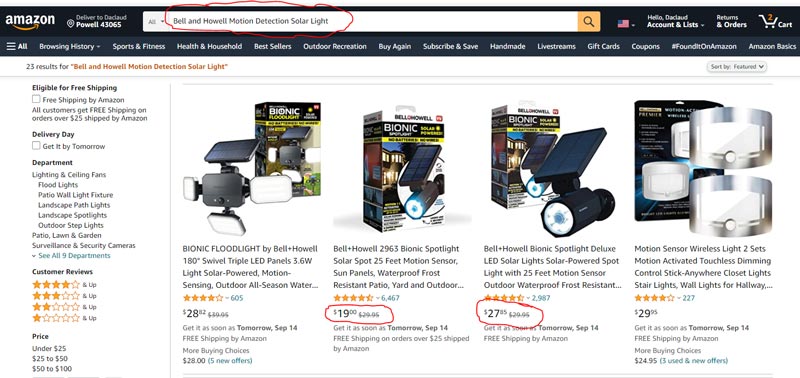 Above: Here you see the same exact product, but two different prices. What's going on you ask? This is because one seller decided to sell it for less of a markup than the other seller. Both products are ranking because Amazon doesn't care which one you choose.
The Pros and Cons of an eCommerce Website
Back in the 90's and maybe up until 2012, there was a barrier to entry to owning an eCommerce website. In order to set up a website, you had to know programming and coding languages such as HTML, CSS, PHP, Javascript and others depending on what you needed for your website. Creating a website became a lot easier over time and eventually almost anyone, even people with minimal to no technical skills could figure out. With such a low barrier to entry, owning an eCommerce has become possible for just about anyone. However, just because the barrier to entry is lowered, doesn't mean there are no additional challenges and compared to an Amazon store, selling products from your own website has its own pros and cons.
The Pros of Selling on Your Own Website
Building your own website is a labor of love. If you have your own website, then it probably means that you are planning on going all in on the eCommerce business for the long haul. Every legitimate business should have its own website, so no excuses!
You Have Full Control Over Everything
You are in full control of your products and web page design. Amazon limits your ability to market to the customer outside of their own website, so in a sense you are entirely reliant on them for sales. If you have your own website, then you can actually grow your business and have that personal interaction with your customers. You can also add your customers to email or promotional campaigns to keep them updated on new products, flash sales or holiday sales. If you sell exclusively on Amazon, then you lose your sense of branding and control.
Most Shopping Carts Handle Basic SEO
Most shopping carts will have technical SEO integration built in, so you don't have to be an SEO expert in order to get products ranked. You just need to be familiar with the shopping cart's documentation and make sure each product is optimized on the technical level. If you want to get into more advanced SEO strategies, then you can add schema markup code as well as optimizing for organic page listings and image search.
Search Engine Optimization
You can invest in advanced level, award winning SEO services for your website and try to get ranked in Google searches. Google has a total of three separate search engines that would be beneficial to eCommerce stores. The first one being the organic search listings, the second being the shopping section and third being the image search. If you have your own website, then you can optimize your pages with schema markup code for your products in order to be found in organic search as well as Google shopping. You can also optimize your images using alt text and schema markup code to optimize your images to be found in Google Image search.
Social Media ads
You can use social media channels such as Facebook, Instagram, Tik Tok, YouTube and a wide variety of others to get customers. Facebook ads allow you to showcase your products to people using Facebook and Instagram (FYI: Facebook owns Instagram).
Pay Per Click Ads
You can create pay per click campaigns on Google that will optimize for keywords in virtually any location that you think your customers will be in. You can customize these keywords to include precise match as well as broad match. There are also research tools that Google adwords provides for keyword research and you can also remove keywords that you don't want your ads to display for.
Cons of Selling on Your Own Website
I wouldn't say there are many cons to having an eCommerce website, but the main issue is it may take a long time before your website out ranks your competitors for different keywords and searches. You will also need to invest in many different marketing avenues such as pay per click and social media ads.
You have to register your business
I'm not a lawyer, so I can't offer any legal advice, but I'm pretty sure you will get in trouble somewhere down the line if you don't register your business as a legal entity. You can get started with this process by visiting the IRS wesbite and apply for an EIN. Once again, please do your own research because I am not a lawyer and cannot provide any legal advice.
You are Playing the Long Game
While you have full control over your website, you are playing the long game, so don't expect results overnight. Every website starts at zero in regards to domain authority. No one will know how to find your website since it's new. Therefore, it will be a work in "progress type" of of situation until your brand becomes better known. Google's crawlers also need time to index your website and you will also need to invest time and money into getting your website found. No one just creates an eCommerce website and gets rich over night, it will take time and effort to build up your web presence. It took Amazon decades to become the titan it is now and Jeff Bezos did not become the richest man in the world over night. The reason why 99% of eCommerce fail is because the site is invisible. You really need to be able to optimize your site and supplement this with both pay per click or social media ads.
Time Investment
You will need to invest a lot of time into running and maintaining your own website. Given, you still have to upload products to Amazon, they take care of other issues that you might face down the line. When you start to sell products at a high volume level, then you may need to really considering hiring more employees to package, ship and respond to any potential customer service questions or issues. You will also need to make sure that your product pages are SEO optimized for Google, which takes time. Amazon is already SEO friendly and as long as you set your products in the right category and use the right keywords to describe the product, then your product should automatically get displayed by Amazon and Google. Amazon provides basic level customer service related emails so rarely will you as the seller have to chime in.  Having an eCommerce website will be a lot of work at the beginning, but if you stick with the grind, then it will eventually pay off in the long run.
Monetary Investment
If you don't have the time to do everything yourself, then eventually you will need to pay employees, contractors of consultants to make sure your website ranks well in the search engines. Amazon takes care of many things for you, including SEO, marketing, customer returns and complaints. All you need to do is fulfill the order and ship it out in time. If you are directly partnered with their Amazon fulfillment center, then all of the burden of shipping and customer service rests on Amazon's shoulders and you don't have to worry about investing in a customer support and shipping team. You will also need to invest more into marketing your website through other channels such as paid search and social media (but these are listed as pros, since you have the ultimate control over everything). The only con is having to spend the money, but if you have a good product, good ad copy and a good landing page, then you should in theory be able to make your money back as well as a profit. You may also need to invest in a warehouse to store your products, whereas Amazon has the option for you to use their fulfillment center. This means less overhead cost to you.
So What's Really Better? Selling on My Own Website or on Amazon?
So once again, the short answer depends on your end goal and you can always do both. If you are serious about creating your own brand, then you absolutely NEED your own website. However, if you just want to sell things casually as a side hustle, then just use Amazon. There are plenty of people can make a full time career out of selling products on Amazon without a website, but this usually consists of you having to constantly buy and flip whatever random product you can find at the highest margin. If you want to do that, then it's perfectly fine to sell on Amazon exlusively.
Starting your eCommerce website does not take that long, but it will take a lot of time and effort to get your website ranked for different keywords. You will need to invest time and money into SEO, Paid Search as well as Social Media Marketing in order to be found. Selling on Amazon is great for the short term because allows you to get started right away without having to make this kind of investment from the start, because Amazon takes care of all the marketing and most of the low level customer service issues for you.
If you decide to go with your own website, then just view Amazon as your supplemental revenue stream and your website as your primary income stream. However, before your website is established and optimized, it could be entirely possible that you make more sales on Amazon than you do on your own website, so take the time to do SEO on your website as well as create any social media and/or pay per click ads. If your website finally starts to do better than your Amazon store, then maybe that will be a sign to quit using Amazon and just focus on your own web store. Having an Amazon store only benefits Amazon in the long game, so if you want to be successful playing the long game as an eCommerce entrepreneur, then you should really just use Amazon to get your sales and income started, and use the remaining time and resources to build up your website.

By Daclaud Lee,
SEO and Digital Marketing at Archmore Business Web
Do You Need Help With Your eCommerce Website?
Call now: 614-568-7500
Ext 71
Speak with Mike Forrest, CEO of Archmore Business Web
Check out the rest of the Archmore blog!
Summary
Article Name
Should I Sell on Amazon or My Own Website?
Description
I would like to get started with eCommerce and I would like to know whether I should sell my products on Amazon or my own website.
Author