Free Woman Owned Business Logos
By Daclaud Lee, Project Manager / SEO at Archmore Business Web
Get Your Woman Owned Business Badge!
Our resident Graphic Designer, Alfonso Flores created these awesome woman owned business logos. Represent your woman owned business by placing one of these badges on your website or print marketing material! These badges and logos are FREE for anyone to use! All we ask you to do is to share this article with friends, family, colleagues, and associates on social media, so they can also benefit from having a free woman owned business badge too! Check out the designs below. Just right click on the image and select save and the image is yours! Get your free woman owned business logo, now!
The Benefits of a Woman Owned Business
Being a female business owner comes with its own set of challenges, but there are also many advantages. The potential programs for minority and woman-owned businesses include grants, loans and contracts from government on the city, county, state or federal level. On top of that, many customers will support a woman owned business. Displaying a woman owned business logo is a good way to represent! If you would like a custom woman owned business logo or graphic design services, then feel free to contact us!
How a Woman Owned Business Can Benefit from SEO
SEO (search engine optimization) is something that every business owner can benefit from, period. A website is your best marketing tool, but a website that is not optimized for search, will be like a tree falling in the woods with no one there to hear it make a sound. There may be many reasons why a customer would want to seek out a woman owned business and indentifying as a woman owned business help you get the customers you want. However, having a woman owned business logo displayed on your website alone will not help you get found, you will need to properly optimize your website with on page optimization, keyword optimization, and internal linking. Even completing your Google My Business listing is essential to getting found. You can even put your free woman owned logo on your Google My Business page by adding it to the photo gallery!
Identify as Women-Led in Google My Business
Google launched a new feature on March 8, 2018 (International Women's Day), giving female owned businesses the abilty to add an icon to their Google Maps listing by identifying as a "women-led" business. This feature will display a "women-led" icon on Google Maps. Below is an example of what it looks like as it appears on Google Maps:
How to Add a Women-Led Icon in Google My Business
It's very easy to add the women led identifyer on your Google My Business Listing. Just follow the steps below and refer to the screenshow to find the "Attributes" area. If you can't find it by scrolling, then a shortcut is to hit "ctrl + f" on your keyboard and type in "attributes" in the search box.
Step 1. Login to your Google My Business Listing
Step 2. Click on Your Business Name
Step 3. Click on Info (refer to image below)
Step 4. Locate Attributes and click on the pencil icon
Step 5. Click on "women-led" as your attribute (refer to image below)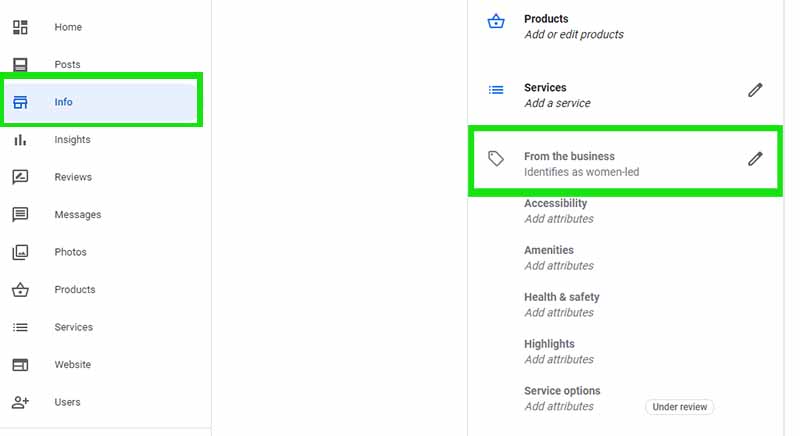 If you need additonal help, Google Support can help you with adding an attribute. Adding the woman-lead icon on Google Maps is a great way to connect with your customers and allows you to represent your business as a woman owned business!
Get Your Woman Owned Business Certification
Having a woman owned business logo on your marketing material or website will show your customers that you are a woman owned business, but it does not make it official. Here is a list of a few resources and associations that offer support for female owned businesses. You don't need to necessarily join any of these associations, but membership may be helpful, especially if your busines is in the right industry. If you want a custom designed woman owned business logo, then we can design it!
Association for Enterprise Opportunity (AEO)
Association of Women's Business Centers (AWBC)
National Association of Women in Construction
National Association of Women in Real Estate Businesses (NAWRB)
National Association of Women's Business Owners (NAWBO)
U.S. Women's Chamber of Commerce (USWCC)
Women's Business Enterprise National Council (WBENC)
Women Impacting Public Policy (WIPP)
Women's Presidents' Organization (WPO)
Further help and information for woman owned business funding and training opportunities can be found at the U.S. Small Business Administration. Additional resources and links to the website of all of the associations listed above can be found on the U.S. SBA website.
Eligibility to be Considered a Woman Owned Business
Be 51% controlled by one or more women, and primarily managed by one or more women.
The women must be U.S. citizens.
The business must be "small" in its primary industry in accordance with SBA's guidelines for that industry.
Women must be responsible for making long-term decisions for the business
International Women's Day
International Women's Day is a global holiday celebrated annually on March 8 to commemorate the cultural, political, and socioeconomic achievements of women. The first international women's day was held on March 8, 1909 in New York City. The United Nations began celebrating International Women's Day in 1975, which had been proclaimed the International Women's Year. In 1977, the United Nations General Assembly invited member states to proclaim March 8 as an official UN holiday for women's rights and world peace. It has since been commemorated annually by the UN and much of the world, with each year's observance centered on a particular theme or issue within women's rights. Celebrate yourself as an established business professional every day by adding our woman owned business badge to your website! It's FREE to use!