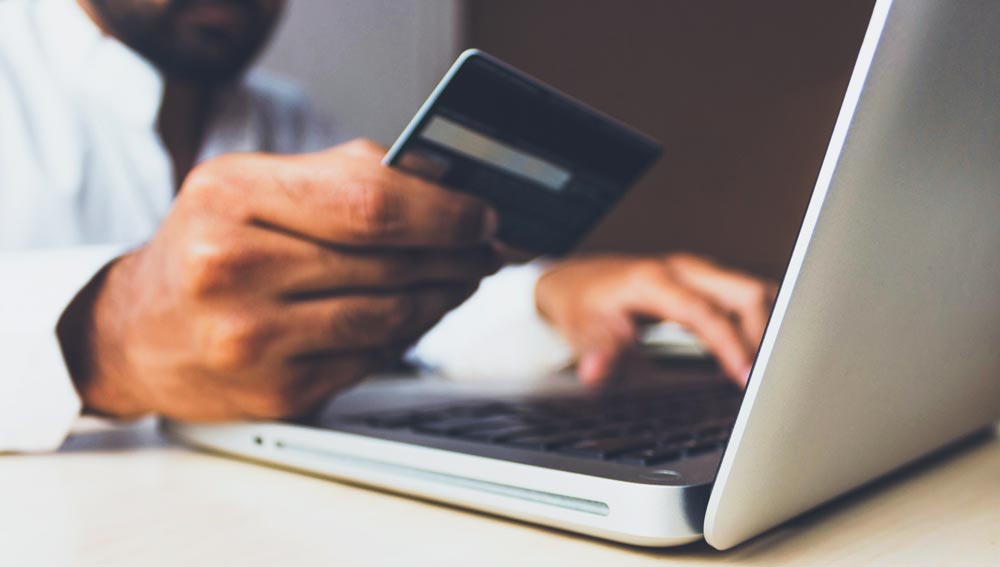 Credit Card Payment Processors for Your Online Business
By Daclaud Lee, Project Manager / SEO Consultant at Archmore Business Web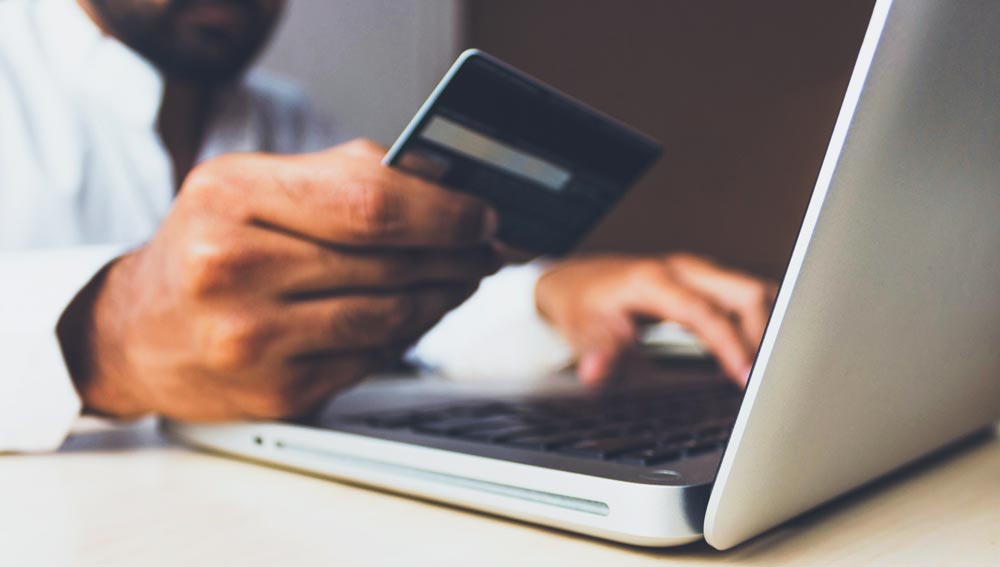 There are many reasons that your eCommerce business needs payment processing. You may sell physical products, digital software, or virtual or intangible services. The list of items sold is nearly endless. In addition to selling your items you will also have to accept money for them. You may offer discounts and free shipping, which require funding.
If you're a merchant, or looking to start an eCommerce website and accepting credit card payments, then you're in the right place. In order to run a successful eCommerce store, you will need to be able to process payments from major credit and debit cards such as Visa, MasterCard, American Express and Discover.
How to Choose the Right e-Commerce Payment Processor
The right payment processor can make a huge difference in the financial success of your e-commerce website. There are many different payment processors out there, ranging from Paypal to Google Checkout. Some offer better rates than others, and some have more advanced fraud protection or even money back guarantees. In this article, we compare many different payment processors including Paypal Express Checkout and Google Wallet Payments so you can make an informed decision about which one is best for your website.
Related Article: How to Start an eCommerce Website
PayPal
PayPal Holdings, Inc. is an American multinational financial technology company operating an online payments system in the majority of countries that support online money transfers, and serves as an electronic alternative to traditional paper methods such as checks and money orders. The company operates as a payment processor for online vendors, auction sites, and many other commercial users, for which it charges a fee in exchange for benefits such as one-click transactions and password memory. PayPal is not a bank and, accordingly, it does not offer banking services or have any teller facilities. Instead PayPal provides money transfer services by way of accounts that hold dollars balances. Millions of individuals and organizations use PayPal.
Stripe
Stripe, Inc. is an Irish-American financial services and software as a service company dual-headquartered in San Francisco, United States and Dublin, Ireland. The company primarily offers payment processing software and application programming interfaces for e-commerce websites and mobile applications. Stripe's technology makes it easy for developers to accept payments on their websites and applications. Merchants can use Stripe without needing to become experts in payment processing, or even website hosting or security. The company offers APIs that can be used to integrate credit card, debit card, and other payment instruments.
Square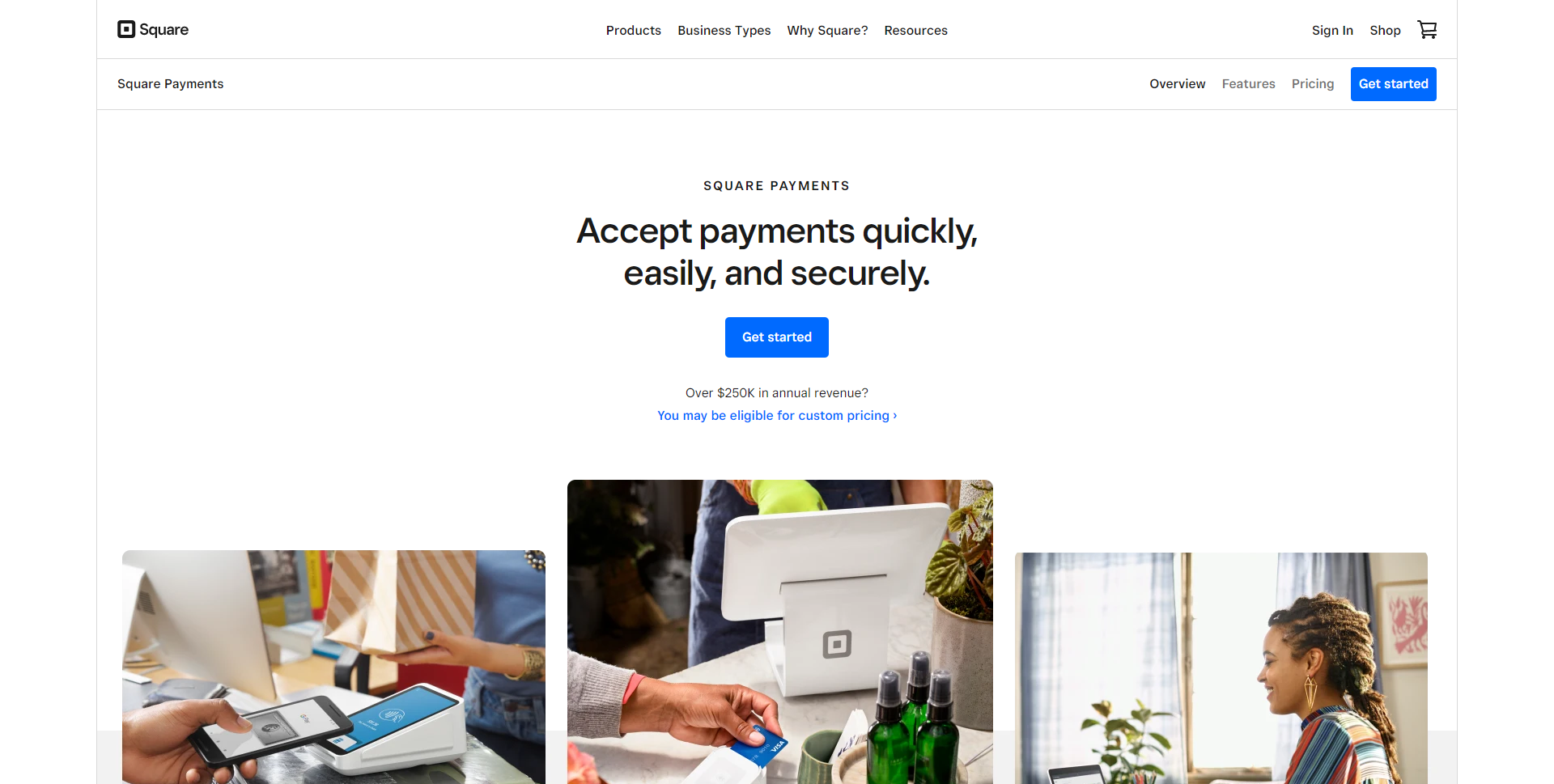 Block, Inc. offers the Block Card, a Visa debit card that enables users to manage both bitcoin and traditional currency from their smartphone. The company's services include a mobile app, online interface, and SMS messaging. In 2012, the company partnered with processing service providers to enable users of its platform to make purchases using the Block Card at any merchant that accepts Visa or MasterCard.
BlueSnap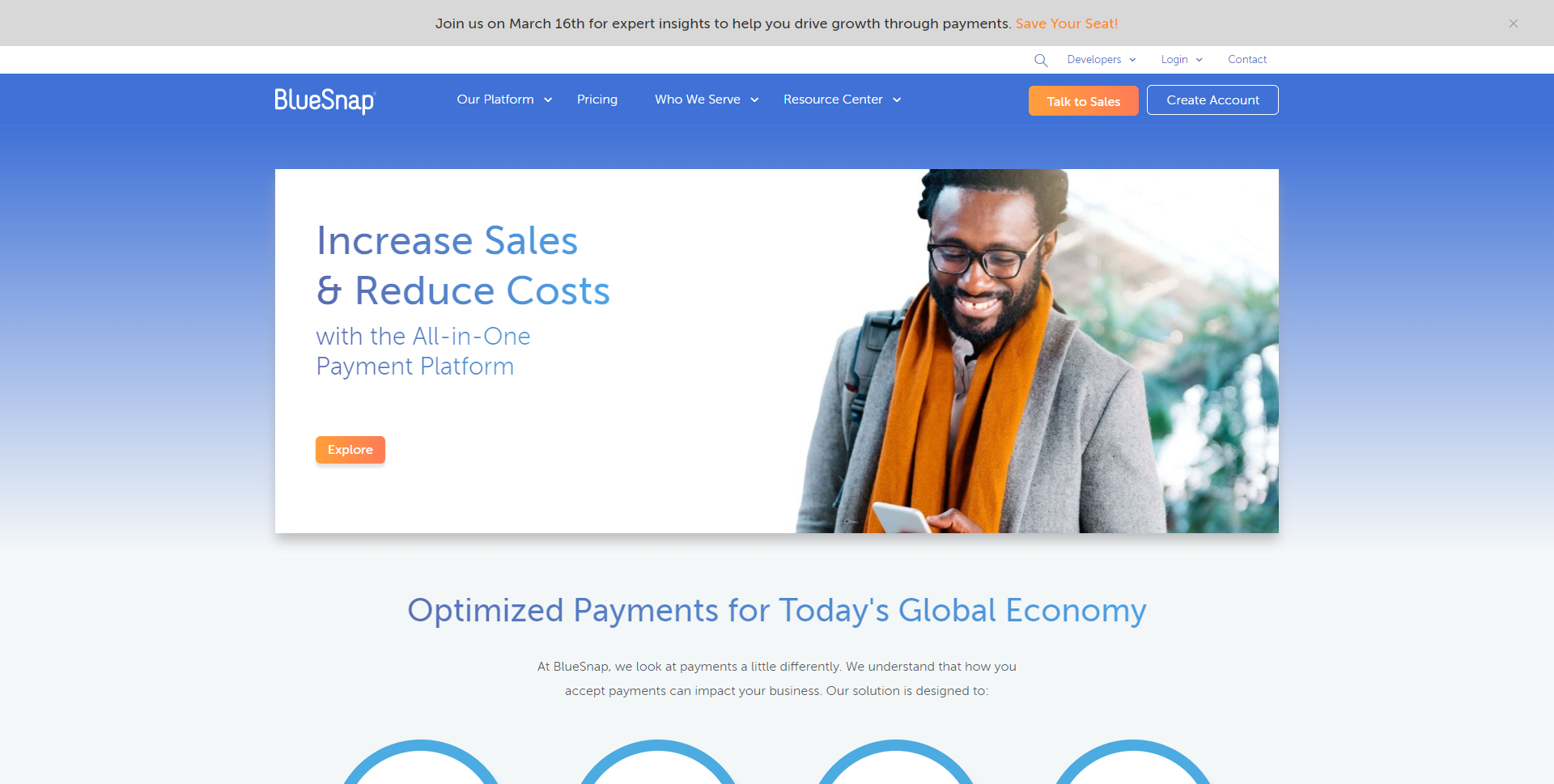 BlueSnap is the global payments company built from the ground up to power an integrated eCommerce experience. We provide a single payment hub for merchants, a dynamic checkout for shoppers, and next generation POS software for retailers.
www.home.bluesnap.com
Authorize.net
Authorize.Net is a payment gateway service provider, delivering a comprehensive portfolio of online solutions. Companies using Authorize.Net's services benefit from real-time processing of online credit card and electronic check transactions by Visa, one of the world's largest, most trusted financial institutions.
Parent organizations: Visa, CyberSource
2Checkout
2Checkout is a merchant services provider that provides comprehensive tools for managing your business. These include global payment service, e-commerce solutions, recurring billing, and subscription billing. 2Checkout lets you accept credit cards (Visa and MasterCard) as well as PayPal payments directly on your website or mobile app. 2Checkout is a digital commerce platform for businesses that sell physical goods or digital products, like software, online. Its global payment options and subscription billing capabilities make it stand out.
Parent organization: VeriFone Holdings, Inc.
BitPay
BitPay is a Bitcoin payment service provider (PSP) specializing in eCommerce, B2B and enterprise solutions for virtual currencies. BitPay provides Bitcoin and Bitcoin Cash payment processing services for merchants worldwide. At the time of the transaction, BitPay converts the amount due into Bitcoin or Bitcoin Cash and sends it to the business within one day.
PaySimple
PaySimple lets U.S. small-business owners accept credit cards and includes merchant services to process payments, business software that allows you to track all aspects of your business and online tools for creating an online store. PaySimple also includes POS compatibility and other extras so you can take payments from your customers in any way that works best for your business. Take online, mobile, or in person payments and get access to thousands merchant accounts.
Braintree
Braintree is a company based in Chicago that specializes in mobile and web payment systems for e-commerce companies. Braintree provides clients with a merchant account and a payment gateway. The company was acquired by PayPal on September 26, 2013.
Google Checkout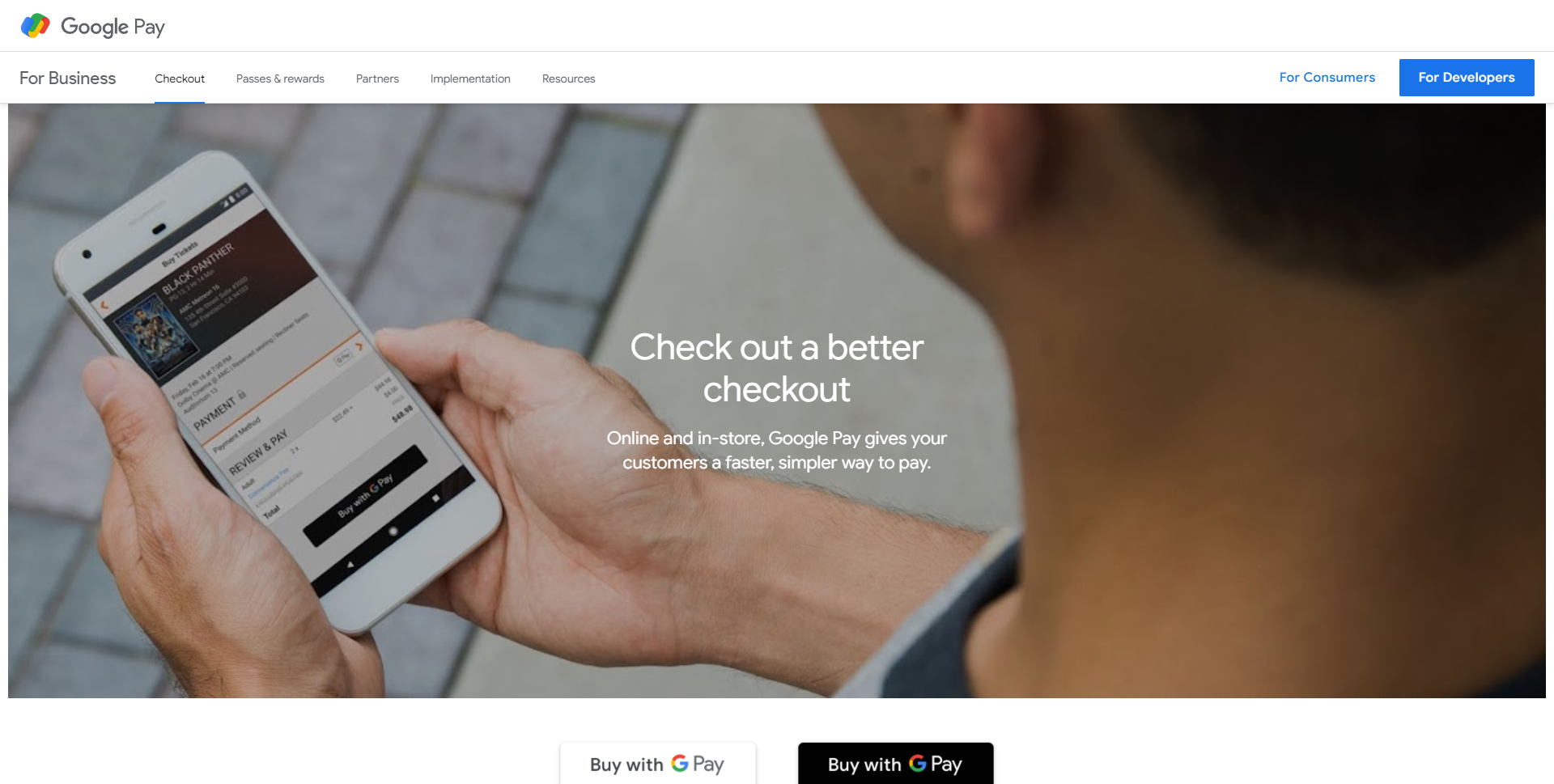 Google Pay is a digital wallet platform and online payment system developed by Google to power in-app, online, and in-person contactless purchases on mobile devices, enabling users to make payments with Android phones, tablets, or watches. Google Pay makes it easy to send money or credit cards to friends, family, and co-workers, whether they're Android users like you or on other platforms. Once you become a Google Pay user, you will be able to use the service for more than just Google products—you'll be able to use it for online purchases and physical goods in stores too.
Apple Pay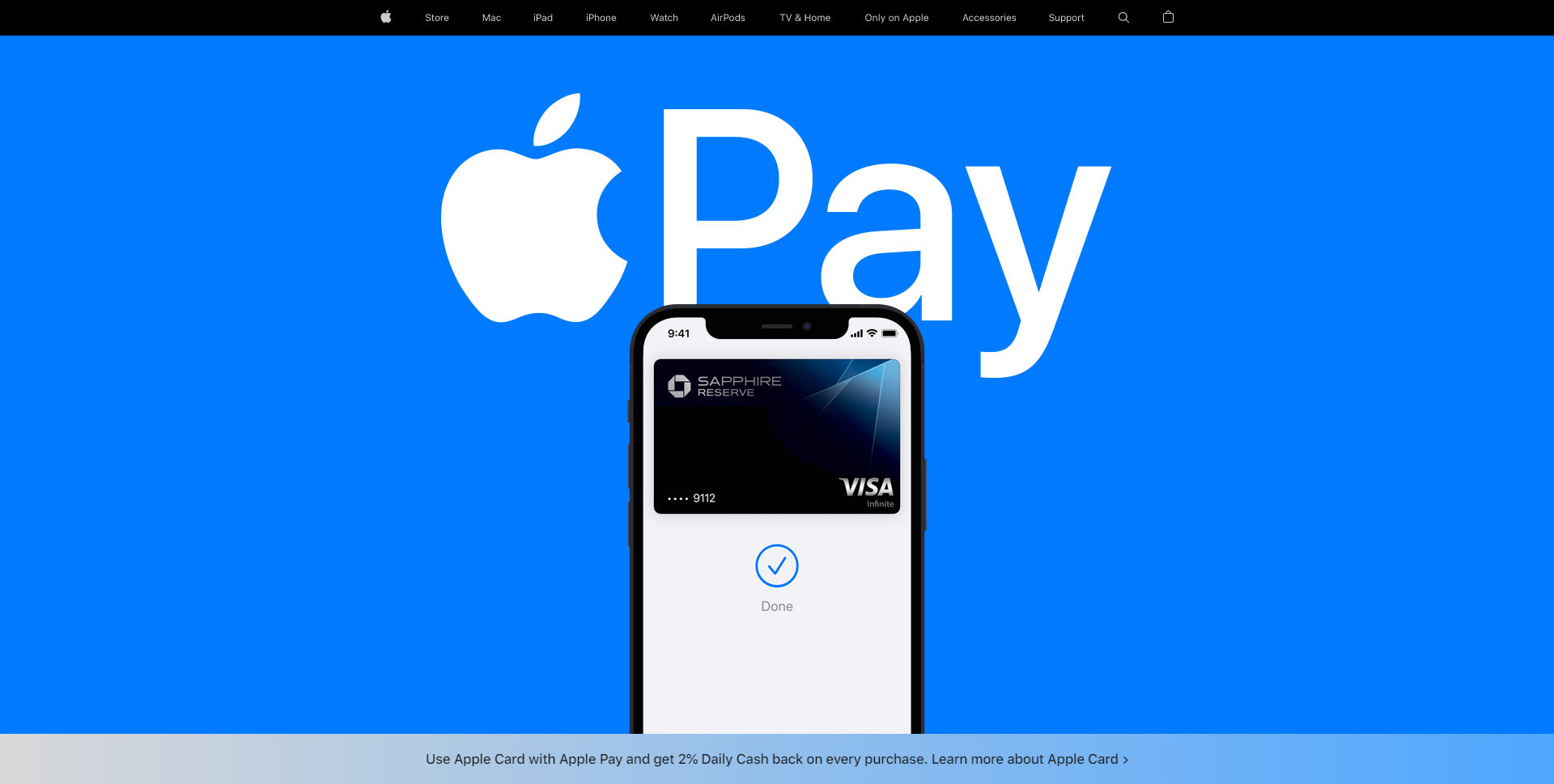 Apple Pay is a mobile payment and digital wallet service by Apple Inc. that allows users to make payments in person, in iOS apps, and on the web using Safari. It is supported on the iPhone, Apple Watch, iPad, and Mac. It is not available on any client device that is not made and sold by Apple. Apple Pay gives your customers the opportunity to purchase using their own device, anywhere. It offers an alternative to cash and credit cards, is easy and fast for customers, and has zero liability for retailers.
Merchant One
Payment Processing Made Easy
Merchant One payment processing offer custom packages to suit YOUR business needs. Large or small, they can handle anything from an entire POS system with terminal, to a simple card swiper for your mobile device. Merchant One, Inc. is a registered Independent Sales Organization of Wells Fargo Bank, N.A., Concord, CA. | American Express may require separate approval. The Clover name and logo are owned by Clover Network, Inc. a wholly owned subsidiary of First Data corporation, and are registered or used in the U.S. and many foreign countries. Merchant One, Inc. is a registered ISO for Fifth Third Bank N.A, Cincinnati, OH, USA.

By Daclaud Lee,
Project Manager and SEO Consultant at Archmore Business Web
Do You Need Help Getting Your eCommerce Business Started?
Call now: 614-568-7500
Ext 71
Speak with Mike Forrest, CEO of Archmore Business Web