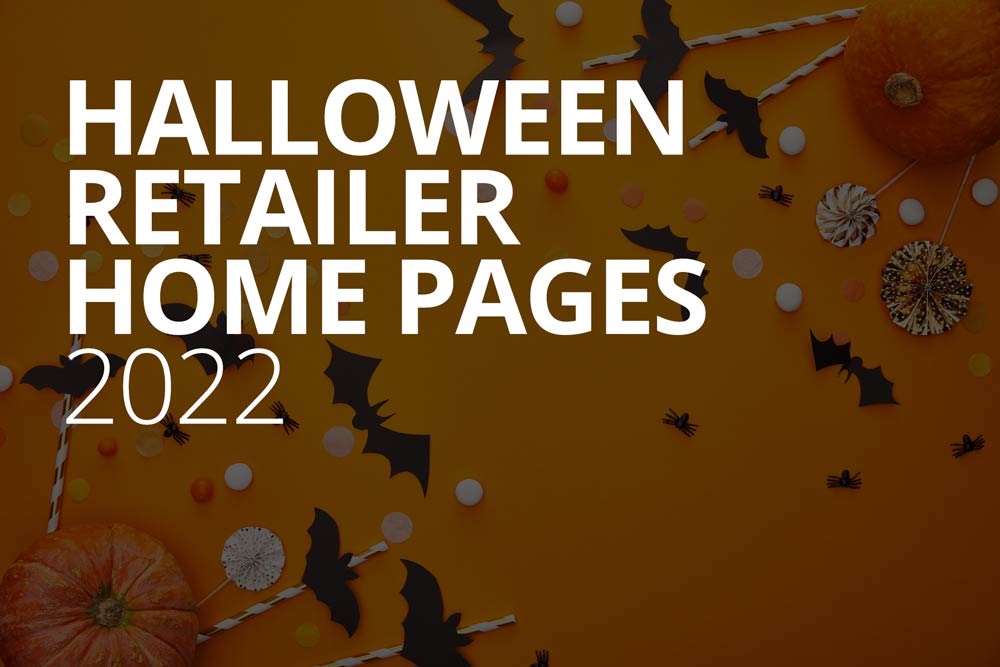 Halloween Retailer Home Pages 2022 | eCommerce
By Daclaud Lee, Project Manager / SEO Consultant at Archmore Business Web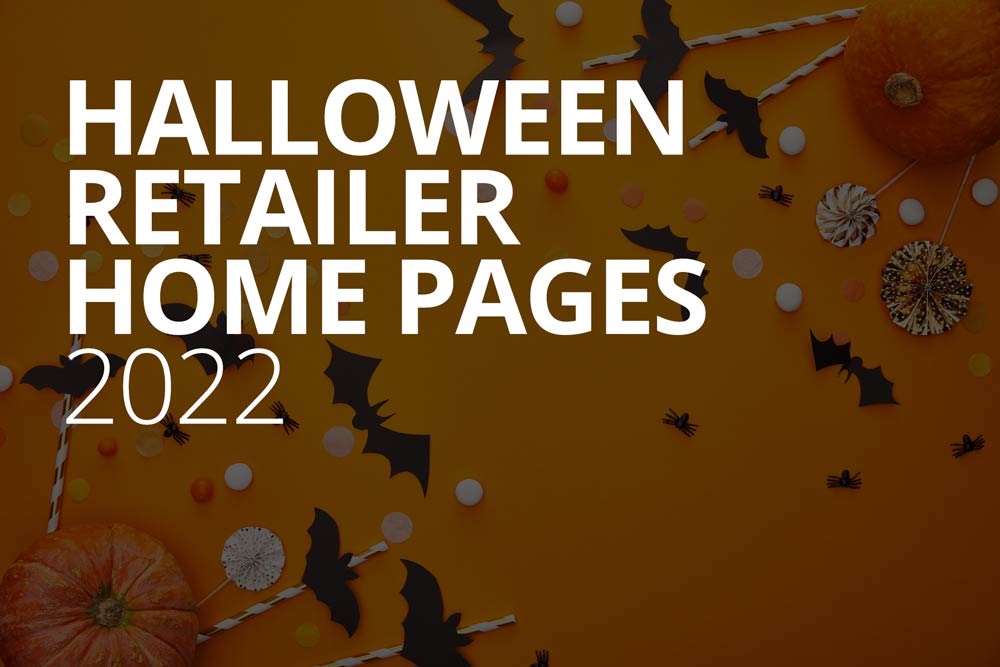 Halloween is one of the biggest retail seasons of the year, so if you own an eCommerce business or want to start one, then you should take a look at how retail giants celebrate the holiday.
Many retailers are getting ready for Halloween with some impressive and creative marketing efforts, while others are ignoring the event altogether. We'll take a look at many different giant retailers, including Amazon.com, Target and Wal-Mart, to see what they've done with their home pages over the past few months.
Amazon
Amazon's website is a great place to get Halloween decorations and costumes. However, they don't really focus on Halloween marketing because their entire home page features items based on your previous purchases. They have a small section dedicated to Halloween if you scroll down, but they take a more algorithmic approach to their eCommerce home page marketing. 
If are interested in selling Halloween items on Amazon, then you can sign up as an Amazon seller to supplement your website sales. 
Walmart
If anyone can benefit from Halloween marketing, then it's Walmart. You will notice on their home page, the very first slider features a link to all of their Halloween merchandise. Walmart offers products for everyone's needs during the Halloween season. Whether you need costumes for your children, candy for trick-or-treaters, or decorations to create a spooky ambiance in your home, Walmart has everything that you could possibly want.
What better way to get into the Halloween spirit than visiting Walmart's website. As one of the largest retailers in the US, most Americans will be going to Walmart at least once this month and purchasing costumes, candy and decorations, as well as other products needed to celebrate the holiday. At least Walmart didn't make a section called Fat Girl Costumes in 2022.
Target
The first thing you see on Target's website are Halloween promotions! Target is a retail giant that takes Halloween seriously. From costumes for kids, candy, spooky decorations and party supplies, Target stocks everything you need to make the most of Halloween 2022. Target makes it easy to plan a Halloween party.
Target has a simple and minimalistic approach to its Halloween page and it features popular items as well as specific categories which makes shopping fairly easy. 
Kroger
As one of the largest grocery store chains in America, Kroger's home page makes gives Halloween a warm welcome. The Kroger website has a complete selection of Halloween items including candy, decorations and pumpkin spice flavored seasonal items. A link to all of their holiday products can be found on their homepage allowing customers to easily browse their goods before heading to the store.
The main emphasis on Kroger's website is downloading their app, getting digital coupons and savings. 
Lowes
As a home improvement store, you would not expect Lowes to carry many Halloween items, but you'd be wrong. They do actually have a lot of outdoor lawn decorations for Halloween and while they don't showcase this on the top of their website, you will see a Halloween section when you scroll down. 
Home Depot
Just like their main competitor in the home improvement industry, Home Depot carries a lot of Halloween products for your lawn. Halloween products are not the main focus of their website, but they do have a section for Halloween when you scroll down on their home page. 
Meijer
The main focus on Meijer's home page was not Halloween, but their 7 for $7 specials. When you scroll down a bit on Meijer's home page, you will find their Halloween promotional section. This call to action will send you to their Halloween page. Here, you can find their Hallow & Hyde promotion where customers can shop for Halloween crafts, costumes, candy and spooky decorations.
Meijers does have Halloween followed y Harvest as their first links on their "shop by department" section. This is a great way for customers to access their seasonal items. 
Giant Eagle
Giant Eagle's Halloween section is your destination for everything you need to make this Halloween the most memorable yet. Shop everything from costumes, decorations and sweets to seasonal plants, trees and accessories like pumpkins, gourds and mums.
Unlike other retailers in 2022, Giant Eagle's approach is to give out recipes and cooking ideas for Halloween parties. They tell you exactly what to buy to make Frankenguac, mini mummy pizzas, witch broomsticks and many others. This is a clever way to encourage customers to add additional food items to their shopping cart. 
Aldi
Halloween is not Aldi's first marketing priority, but if you scroll down, you will find a small section featuring Halloween candy under their weekly Aldi Finds section. So their Halloween promotion is more of an after though or for anyone who is interested in discounted bulk candy.
With Halloween approaching, it's time a lot of people to start buying candy for trick or treaters. Since Aldi is a small store, the small Halloween section makes sense. Aldi has a small selection of discounted bulk candy on their website but it is not featured prominently on their website like other retailers are.
Bath & Body Works
Bath and Body Works has a large line of seasonal body products in order to prepare for Halloween. Some of their more interesting scents include Vampire's Blood and Pumpkin Spice. 
Big Lots
Big Lot's has a large selection of Halloween products. While their home page doesn't focus exclusively on Halloween, there is a category called Halloween featuring costumes for kids, costumes for adults and other related products. Even though they do not focus on Halloween merchandise on their home page, they make it easy for their customers to find exactly what they are looking for.
Dollar Tree
I expected to see Halloween promotions, but it turns out Dollar Tree is more interested in promoting Christmas items even though it is only mid October. They do however, feature a link to Instacart as well as a text mention on same day Halloween delivery. They do seem to have seasonal sections on their website all year long, but apparently they would rather skip Thanksgiving and just go straight to Christmas.
Dollar Tree may have jumped the gun on their Christmas marketing, because I don't think anyone is looking for Christmas items this early. We still have two weeks until Halloween (as of this writing).
Dollar General
The home page for Dollar General chose to make DG Well being it's main focus and Halloween as it's secondary focus. Their Website had a slider on the home page and Halloween items were only featured on the second and third slides. If you scroll down, you can find more links to Halloween items.
Family Dollar
Halloween is more of an after thought than the main focus on Family Dollar. Their home page features Fall football instead of Halloween. You actually have to scroll through the website to find the Halloween section. Much like Dollar Tree, they decided to get a head start on Christmas, but the link to the Christmas page was a lot more subtle compared to Dollar General. 

By Daclaud Lee,
Project Manager and SEO Consultant at Archmore Business Web
We'll Get You "Monstrous Traffic" To Your Website!
Book a call with Mike Forrest, CEO of Archmore Business Web