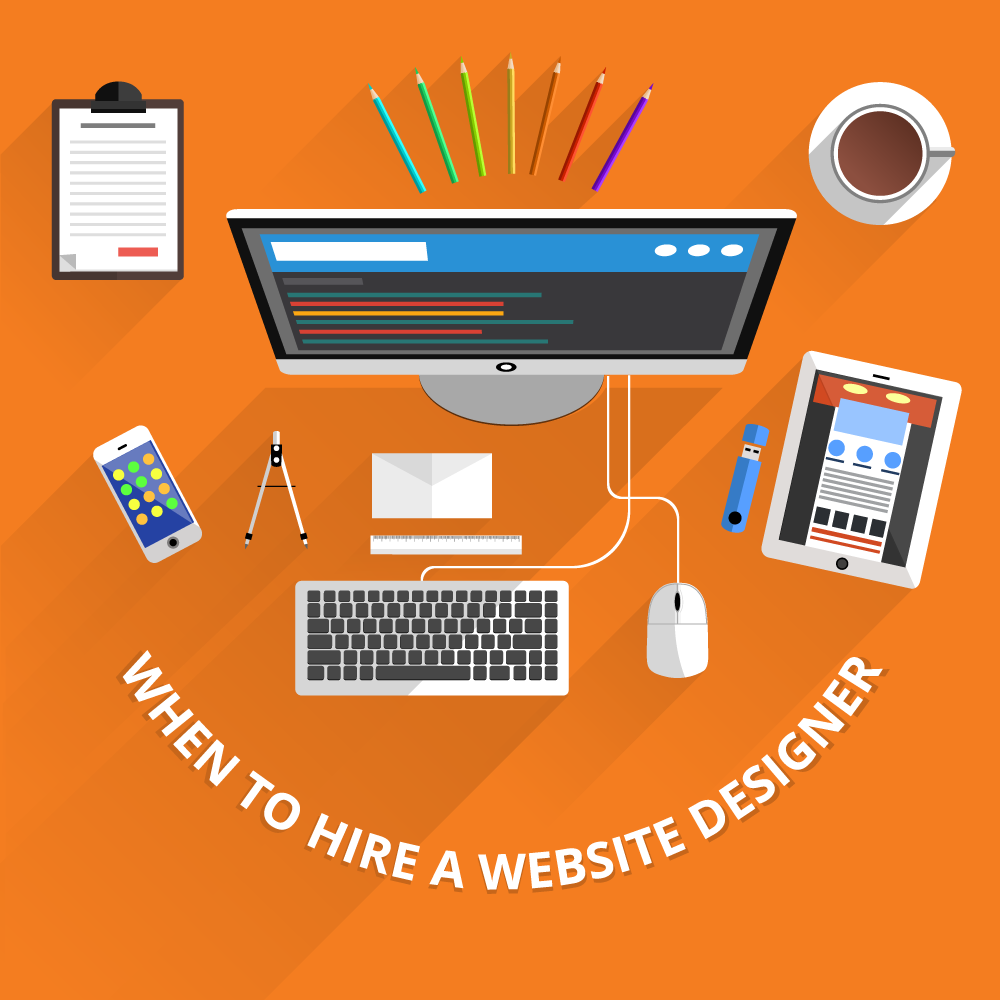 When Should You Hire
a Website Designer?
By Daclaud Lee, Project Manager / SEO Consultant at Archmore Business Web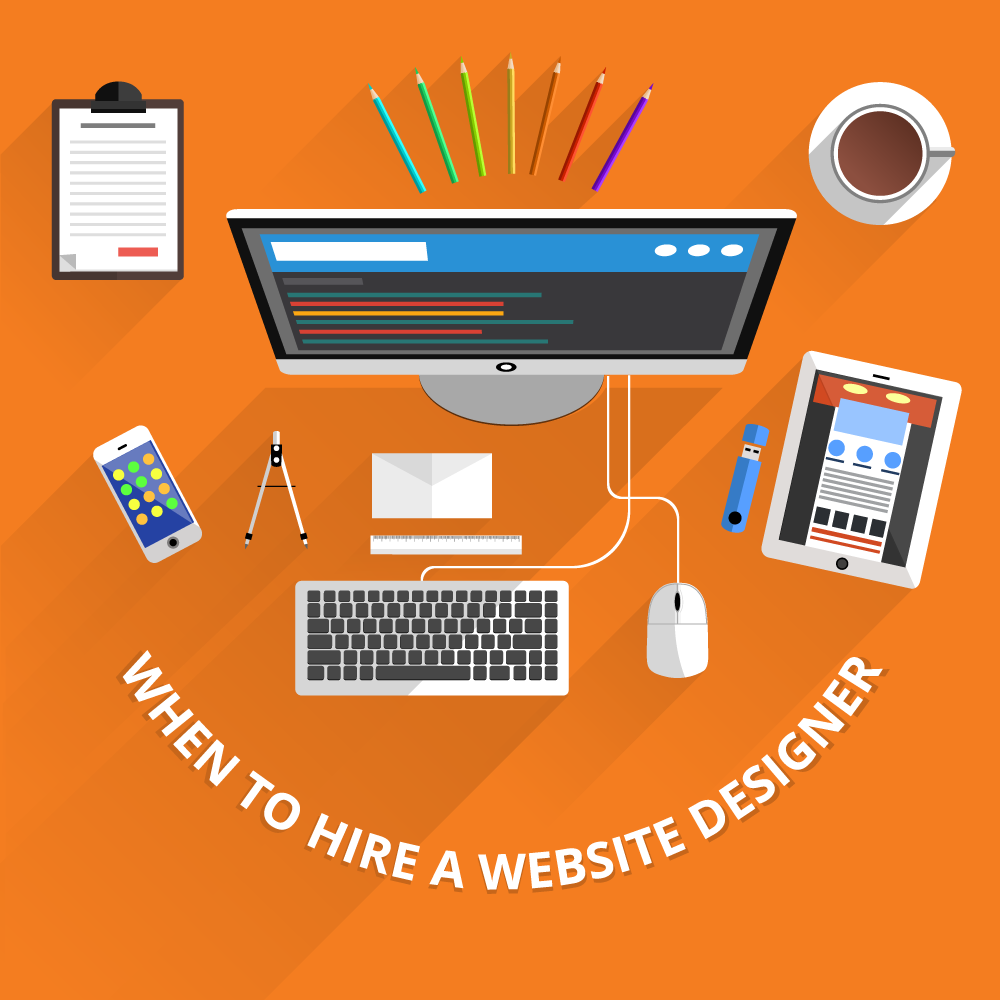 Do you need to hire a web designer? If you have considered this, then you need to read this article. Anyone can design a website. But, the biggest difference between an average designer and an exceptional one is their understanding of how to create a visually stunning page that works with your brand. We work with you to understand what makes your business unique, and translate that into visual components that are fresh and exciting. A good web designer will make sure your home page is following the current design trends and doesn't look outdated or contains unnecessary information.
You should hire a website designer if you are not good at designing your own website. A website can reflect your company's professionalism, credibility and visual appeal. If it looks unprofessional online, then it will make the client have a wrong impression of your business. A good web design needs to have the right CTAs in order to get the right customers. A bad web design will make you lose customers.
A professional website can make a big difference in how your business is perceived, and having a non-professional site can damage your credibility and the overall image of your company. Professional Web design involves much more than choosing a template and plugging in your own photos. It includes extensive research into how your prospective customers will use the website and what information they need to find it; content planning for clear, concise messaging that builds interest about your business; graphic design for a look that fits with your company's brand identity; and implementation of all these things through coding that provides fast loading times and easy navigation.
You Can't Design The Website Yourself
One obvious reason to hire a web designer is when you can't design a website yourself. Everyone has their own skill set and web design just doesn't happen to be something that you're good at or want to learn. That's okay; if you pick the right company, they'll have plenty of talent available to help you create your website.
Web designers and developers are responsible for the design, creation and maintenance of websites. They may also create logos, graphics and the overall look of a website. For example, if you hire a web designer, they can create site templates that fit your needs. Perhaps you want to hire a web designer because you don't have the skills to learn how to develop websites yourself. Or maybe you just want a professional to do it for you because programming languages aren't your strong suit. If any of these situations apply, then hiring a web designer may be right for you.
If you are a business owner and have no idea how to make money or design websites. You should consider hiring a web designer, because they will be able to create an effective website that is also visually appealing.
A Professional Web Designer Saves You Time
Even if you do have an eye for design and an artistic talent, you can save time by hiring a web designer. That way, you can focus on what you want to do and let your web designer do the grunt work. In other words, you don't need to be a computer expert in order to own a website. Your site will instantly become more professional and inviting once it's completed. As a client, you should be able to give your web designer the right information about your business, so they know exactly what to do.
Hiring a professional website builder can be helpful because they already know what they are doing. If you are not a designer or developer, then having a professional website builder can save you time and effort. They will create your website for you and make sure that it is built to meet your business needs at a fair price. A professional website builder can also help with any technical issues that may arise with the site as well.
If you are a small business owner or a beginner, hiring a professional web designer to create your website can save you time and effort in the long run. By concentrating on what's important for your business, your website will automatically have an edge over others that are created in-house by someone who is not a full time web designer. 
Not All Web Designers are Equal
Not all web designers are equal. Some web designers are better than others. A bad web designer is like a bad artist: their skills will show, and they'll most likely disappoint you. On the other hand, a great web designer can make your site look as good as any magazine cover, which is something that everyone who uses the internet should be proud of. A good web designer should also be highly proficient in color theory in website design. which is highly important in any type of design.
A good web designer will paint your vision with pixels and better yet, they're creating something that will be out there for everyone to see. A good web designer pays attention to detail and has a keen eye for what works and what doesn't. A bad web designer makes mistakes that can eventually make or break your business.
If you want to hire a web designer, then should make sure that they have some kind of design skill. However, it is not just about being creative. It is also about understanding technical issues, coding and making decisions that produce good results in terms of usability, accessibility and visual appeal.
No Need to Learn Coding or Design Theory
A good web designer already knows what they are doing. Anyone can learn how to design a website just like anyone can learn how how to prepare their own taxes, but the web designer is already fluent in HTML, CSS and other coding languages. You don't need to learn coding if you hire a web designer. However, if you're committed to continuing to build up your site on your own, then knowing just the basics of coding will save you time in the long run when you want to edit or add something new.
A web designer's job is to design a website that can work in a way that is easy for the user. Hiring a web designer will save you time, money and frustration in the long run. The designer will also need to consider how your site will look on various devices such as smartphones and tablets so they should be experienced in responsive design techniques. 
Professional Design
A professional website design always looks better than an amateur one. This is why you should hire a web designer, so that your website follows the current trends of the year and is user friendly.
Web design is the art of creating websites. Web designers are responsible for planning, developing and maintaining websites. A good web designer can help companies improve their online presence, market their products, and increase revenue.
Web designers are here to make your website look exceptional, professional and appealing. They have expertise in their field that ensures your website will stand out from your competitors. The designs created by them will be in accordance with the current web design trends, so you will get a website that is not outdated.
Your Website Might Not Get Found
It's not all just about the design. When you hire a professional web designer, they will take care of all the technical aspects of your website. This includes getting your website ranked on Google. This is done through search engine optimization, or SEO. That way when people look for your category on Google and other search engines, they can find your website quickly and easily.
A professional web design service will include basic SEO (Search Engine Optimization) to get your new website found for keywords in the search engines. If you do it yourself, then you may miss out on getting your website found, or fail to do it correctly.
Your website should be designed in such a way that the search engines are able to crawl, index and rank your website so that it is found by people when they use specific keywords in search engines. If you do it yourself, then you may miss out on getting your website found for those keywords.
Get Any Features You Can Imagine
A professional web designer can save you a lot of time, and ensure that your website is accurate and up-to-date. For example, even if you are proficient with basic web design code such as CSS, HTML and Javascript, it doesn't mean you can make a every feature you work. Even if you are using a content management system that requires no coding, you still need to learn how the plugins and addons work. When you hire a professional web designer, they will already know how to make these features work, so you don't have to spend countless hours focused on something that is not going to make you money.
A website can be tailored to fit your brand and provide an optimal customer experience. An agency web design will make sure to include things like integration with your CRM of choice, sharing data to a mobile application, e-commerce with the specific payment providers and so on. 
Not All Websites Are Created Equal
Not all websites are created equal. A website for a personal blog will be less complex than Amazon. The personal blog should have a simpler design and it should be less resource intensive than Amazon. These websites are not equal and one requires an entire staff to maintain and the other doesn't.
Websites are a critical aspect of the modern business, but the needs for different industries vary greatly. A restaurant website can look very different from that of a retail store. The technology used on each one is different, as is their purpose and audience. One is going to be a lot more complex than the other and will require additional programming and security features. Just like any project, you should begin the design process by discussing goals, content and functionality with you or your clients so your web designer can create a website that not only meets your needs, but makes sense to your audience as well.
Technical Issues You May Not Be Aware Of
Did you know that your business could get sued for not having an ADA compliant website? Did you know that thin content actually hurts your SEO? These among many other factors can lead to your website not working properly. Just like we need to eat right, get exercise and get a yearly checkup for our bodies to remain healthy, a good web design agency will be able to make sure that all of these features are optimal on your website. 
The professional website designer you hire should have the resources to sure all of the technical website issues are taken care of and fixed. If you need to switch out your web hosting or get a new domain, there's someone who can handle it for you. When you choose a web design company that offers web services, you can be assured that your site is going to function well and be responsive across multiple devices and platforms.
Are You Ready to Hire a Professional Website Designer?
If you're ready to hire a web designer, contact Archmore Business Web now! We create custom websites that will grow your business. We offer a wide array of services that will help you design and develop your website. Whether you need just a simple landing page or a full-scale corporate portal, we have the experience and know-how to get the job done right. Reach out today and let us show you what we can do for you.

By Daclaud Lee,
Project Manager and SEO Consultant at Archmore Business Web